The Calaway Park, Alberta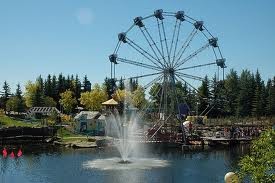 The Calaway Park is a big ourdoor amusement and Entertainment Park located in the western part of Canada.The theme park is situated in Springbank in Alberta's Rock view county.
You can find a variety of rides, which includes a big log flume, the "Storm", "Chaos" rides and also the two prominent attractions, a 56 seater passenger ride, the "dream machine" and the corkscrew roller coaster known as the "The vortex".
Presently the theme park boasts of having 32 rides, 27 games, 22 food stalls.
Some of the well-known rides in the park
Aeromax
This family ride provides you a feeling that you are the pilot riding a crop duster plane. The ride makes you to soar to more than 8 meters in height.
The passenger should be at least 42"in height, if any of them are below this height; they are advised to travel with an elder.
The Adrenalin tests zone
This thrill ride has three arms, eachone holding seven cars. This thrill ride gives you an exhilarating feeling, by making you spin around a lifting you off the ground and takes you to a lofty height.
The passenger should be at least 4 8"in height, if any passenger in between 3 6" and below 48" in height, they are advised to travel with an elder.
The ball crawl
This area provides entertainment exclusively for the kids. The ball crawl is a soft mat play spot for the children and is packed amid multi colored balls.
To play in this area, the kids should be 32" and below 54".
The Boulder Bumpers
This area is filled with kid's bumper cars. The little ones can test the driving skills by driving this car and get bumped into whatever it comes into their way.
Some of the popular area are, the Chaos, a thrill ride, cosmic spin, a thrill ride which spins the passengers, the carousel, the Biplanes stunt school, dream machine, etc.
Opening hours
From 10.00am to 6.00pm.
On weekends, from 10.00am to 7.00pm.
Admission fees
Fro adults in the age group between7 to49 years, the fees is $33.95+GST
For kids in the agr group of 3 to-6 years the fees is $27.00+GST
For elderly people who are 50 years and above the fees is $25.00+GST
Contact
Calaway Park
245033 Range Road 33
Calgary, Alberta Canada
T3Z 2E9
Phone: (403) 240-3822
Fax: (403) 242-3885
E-mail: calaway@calawaypark.com

Related News
Comments
You must
login
to post comments.