Phantasialand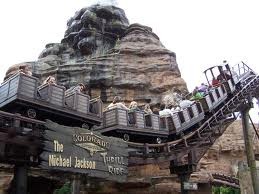 Phantasialand is an entertainment that is situated in the town of Bruhl in the Rhine land of Germany. The park was opened to the public in the year 1967. Initially it was started as Family Park, but later over the passage of item, many thrill rides were added from time to time, and it evolved into a full-fledged amusement and theme park.
The park it segregated into different lands with various themes like Berlin, Mexico (has rides like the Colorado adventure, Talocan, Tikal, Silbermine), Fantasy, Mystery, China Town, Deep in Africa (it has the Black Mamba ride).
One of the main attractions in the park is the Colorado Adventure, a Mine train roller coaster.
Colorado Adventure
It is a steel roller coaster. The Colorado Adventure has been adjudged as one of the best mine roller coaster examples in the world. The complete name of the ride is the Colorado Adventure- the Michael Jackson Thrill ride. The rid was launched by the King of Pop, Michael Jackson on May 11, 1996.
A total of five trains form the Colorado Adventure and each car can accommodate 32 passengers. The starting car is designed in the form of a locomotive and has 2 seats.
Three rows of seats for a six people are present in the other cars. At a time, an up to a maximum of 4 trains can be utilized.
Another popular ride in the park is the "Talocon", which is a suspended Top spin ride manufactured by the Huss Maschinenfabrik. The ride is situated in the park's Mexican area.
Some of the latest kids attractions in the park are the, Die fröhliche Bienchenjagd (Jump Around van Zamperla),Baumberger Irrgarten (Maze), Der lustige Papagei (Crazy Bus van Zamperla), Wolke's Luftpost (Magic Bikes van Zamperla), en de Würmling Express (Monorail).
Black Mamba
It is an inverted roller coaster ride, which was jointly constructed by Bolliger & Mabillard (a Switzerland roller coaster design company) and the Phantasialand theme park.The Black Mamba travels in an inverted manner beneath the rails, and passes through tunnels, ravines, which is akin to the Nemesis located at the Alton towers.
How to get there

You can board a bus (route 705)from the Brühl train station to the Phantasialand.
Opening hours
From 9am to 6 pm.
Address
Phantasialand
Berggeiststraße 31-41
50321 Brühl
Phone: +49-2232-36200
Tickets: +49-2232-36600
E-Mail: [email protected]

Related News
Comments
You must
login
to post comments.