Parc Astérix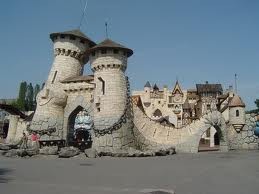 Parc Astérix is an entertainment park in France that is developed based on the Astrerix storis. The Park is situated roughly at a distance of 22 miles (35km) to the north of Paris.

The park boasts of having different types of roller coaster and other attractions.
Some to the well-known attractions in the amusement park
Tonnerre de Zeus
Tonnerre de Zeus is a wooden rollercoaster inaugurated in the year 1997. You will find the roller coaster having a lift hill of 98 ft (30m) in height. The rollercoaster will have its first drop into a tunnel followed by helices.

Goudurix
The Goudurix is big multi looping coaster made up of steel. You will get a smooth, taller and quick riding experience with a number of inversions, when compared to a conventional wooden roller coaster.

La Trace du Hourra
You can also ride in the cars of this bobsled roller coaster of 900m length, which speed reaching up to 80km/h.
La Galère
A visitor can also ride the la Galère, a swinging ship. This is a kind of amusement ship comprising of seated open Gondola that swings to and fro. The rider will be subjected to the different stages of angular momentum.
Some of the attractions in the park are Oxygénarium, big winding water slide with round dinghies that are inflatable.
Menhir express, a log flume that is based on Menhir theme with a 13 m height final drop.
Opening hours
From 9.00 am to 6.00pm
Tickets
For Season pass, the cost is 84 Euros

For Adults, the admission ticket is 39 Euro

Fro Kids, the admission ticket is 29 Euro

For Kids under the age of 3, the admission is free!

Address
Parc Astérix
BP8, 60128
Plailly, Picardie, France
Telephone: 03 44 62 34 04

Comments
You must
login
to post comments.