Pacific Rim National Park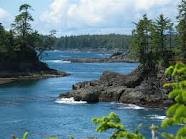 The Pacific Rim National Park is a national reserve in the British Columbia province of Canada. The park comprises of three distinct areas such as the Broken Group Isles, Long Beach, and Western Coast Trail. The whole park is spread on an area of 197 square miles (511square kilometers). It is distinguished by rough coasts and lush green temperate tropical forests.

Long Beach
Long Beach is the easily accessible and most frequently visited place. It comprises of coastal area from Tofino to Ucluelet. The salient aspect of this region is the Long beach itself. You can find the Green point campground, which has ninety four campsites with tents as well as tiny trailers. You can also find the British Columbia Highway 4, a ranger station and the Wickaninnish Interpretive Centre. This center is the major educational hub and houses the displays on the local plants, wildlife, the native history and culture. You can also find a theater, gift shop, restaurant, and information desk.

Broken Group Islands
The Broken Group isles comprises of more than 100 islets, and tiny islands, in Barkley islands. Effingham, Turtle, Turret, Jacques, Dodd, Gibraltar Island and Nettle are biggest densely covered with forests. These islands are famous among the kayakers.

Activities
Some of the activities you can indulge at Pacific Rim National Park are hiking Kayaking, camping, watching the local wildlife, scuba diving, running, bird watching, running, horse riding, etc.

You can have a tete-a tete with some of the residents of the park like cougar, black tail deer, marten, Vancouver Island wolf, mink, raccoon, black bear, harbor seals, elephant seals, fur seals and Stellar's sea lions, etc.

The tropical forest with the hanging moss will be a great treat for your eyes. You will be welcomed by different y Kinds of beaches and trails. There is abundance of quaint places for you to explore.

You can also go for surfing, if you happen to visit the park in the month of March and April, then you can witness the beautiful whales.

You can also visit the Hot Springs Cove, the hot spring situated on the Vancouver Island in the northern direct of Tofino. The place can be accessed by a seaplane or by a boat.

How to reach there
The simplest route to reach the park is to travel by car from Victoria or Nanaimo through Port Alberni.

Address
Pacific Rim National Park
Pacific Rim Highway, Tofino, British Columbia, Canada
250-726-7721

Accommodation near Pacific Rim National Park
Long Beach Lodge Resort
1441 Pacific Rim Highway
Tofino, BC
(250) 725-2442

Related News
Comments
You must
login
to post comments.