Mount Kosciuszko National Park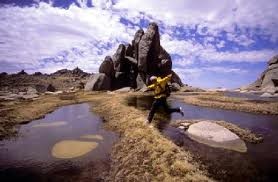 Mount Kosciuszko is situated in the snowy mountains at the Kosciuszko National Park. It is Australia's the highest mountain standing at a height of 7,310ft (2,228 meters) above MSL (mean sea level).

The mountain is a tourist deetsination. It houses the Kosciuszko National Park. Kosciuszko National Park is spread on an area of 690,000 hectares. The park is characterized by wilderness, Rocky Mountains. The national park is the source for the Murray River, Snowy River, and Gungarin River.

At Kosciuszko National Park, you can find the rare Mountain Pygmy Possum and the endangered Corroboree frog. You will be often come across a number of wild horses. These common residents, number around 1700 in population.

Some of the activities, you can carry out are strolling along the Australian Alps Walking Track. You can make friends with fellow visors, while walking to the Mount Kosciuszko. Enroute, you can find a number of dams and rivers. Some of the other entertainment activities, in which you can indulge are swimming and canoeing, trail riding, whitewater rafting, etc.

You can also visit the Valentine falls, where you can find water flowing from the valentine rivulet in several segments with many pools.

Address
Mount Kosciuszko National Park
Thredbo Village, Kosciuszko National Park, New South Wales, Australia

Accommodation near Mount Kosciuszko National Park
Alitji Alpine Lodge - Charlotte Pass
Charlotte Pass Village
Charlotte Pass, NSW 2630
Ph: (02) 9971 0723
Fax: (02) 9971 0455

Related News
Comments
You must
login
to post comments.