Mosque of Badr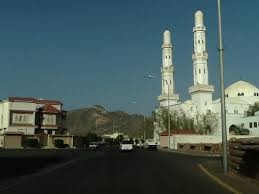 The Mosque of Badr is a renowned holy place and a must visit place if you are in Medina. The Mosque of Badr is also called as Masjid e Areesh. It is a serene and beautiful spot where you can offer your prayers and memorize the Battle of Badr's Martyrs. You find in this spot remnant of houses & other relics belonging to that era. The site of battle is a just a few meters away and is characterized by numerous anonymous graves.
A day trip to the city of Medina with a delicious in Badr town will make your day an enjoyable & memorable one Just like the other historical place you will not find any tourist guides. However the natives are very friendly and they would offer you some suggestions.
This is the place where a few of the history of Islam originated. You can get a lot of positive vibration and a serene feeling as it is this place where our beloved prophet worshipped. On the whole it is beautiful and wonderful mosque which is worth visiting.
Address:
Mosque of Badr
Medina, Saudi Arabia
Related News
Comments
You must
login
to post comments.