Lyon Part-Dieu shopping center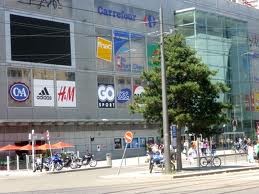 Lyon Part-Dieu or is a big shopping mall in France. The mall is located in Lyon, a city in the east central part of France. Lyon Part-Dieu was constructed in the year 1975 and is regarded as one of largest downtown shopping mall in the European Union.
The Lyon Part has a floor area of 134 000m² and houses 302 shops. It has 5300 parking spaces, and nearly 54 750 000 visitors visit the mall annually. The Lyon Part Dieu has a workforce of 3500 employees and its turnover amounts to 820 000 000€. The shopping boasts of having the Galeries Lafayettes. Prior to the official release you will get a chance to see the products displayed in this mall. You will different types of items, fashion accessories for men, women, kids, house wares and beauty items (perfumes and cosmetics).
Address
Galeries Lafayette Lyon Part Dieu
69003 - Lyon
Telephone:(+33) 4 72 61 44 44
Fax:(+33) 4 78 95 38 29

Comments
You must
login
to post comments.