To post your Indian Association, School News Please send your news details and images to
editor at abroadindians.com (replace at with @) and our editor will publish.
Kuwait Kerala Sunni Muslim Council (K.K.S.M.C.)'s Friday classes for HOLY QURAN were inaugurated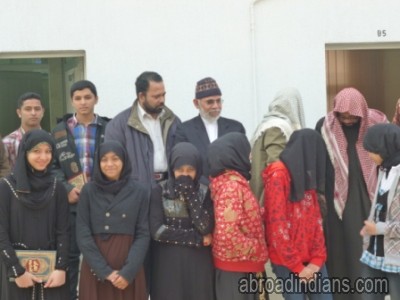 Kuwait Kerala Sunni Muslim Council (K.K.S.M.C.)'s Friday classes for HOLY QURAN were inaugurated by Chief Guest Janab Anis Ahamed Saheb, The Director of Salmiya Indian Model School, and Former Principal of India International School (Mangaf) on Friday 24th Feb. 2012. Anis Saheb said that for learning Holy Quran is easy which will guide a student or a person how to develop good manners and characters, which can be bestowed through out one's life and his/her communications skills can also be in peer mood. Therefore, one should encourage recitation of the Holy Quran. He added that he is very much delighted to see KKSMC is helping the parents whose children are deprived of getting knowledge in Holy Quran and spoken Arabic.

Dr. Ghalib Al-Mashoor Thangal, Organizing Secretary of KKSMC welcomed the Chief guest and the students. He said that most of the gratitude goes to Dr. Mohamed Tareq, The Chairman of The Salmiya Indian Model School (www.simskuwait.net) for accommodating the venue for students and facilitating to conduct such classes. Dr. Al-Mashoor added that there are more than 30,000 Madrasas are run by Samastha Kerala Islam matha Vidyabysa Board in Kerala, and KKSMC is part of their Islamic Daawwa' wing in Kuwait. He added that Importance will be given for the children who are also interested in Spoken Arabic. The knowledge of Holy Qur'an recitation will enhance the children for the development of Hifz & Tajweed, in addition to the classes on Etiquettes of Islam.

KKSMC Chairman Sayid Nasir Thangal and Shamsuddin Moulavi , Dawa Wing Convenor, expressed their gratitude to SIMS Management Committee for their patronage and reiterated while saying that Students aged 3 to 17 years from all nationalities in Kuwait, who are interested to learn holy Quran are welcome. The program is conducted under the auspicious KKSMC based on free of charge on Friday's only from 07:30 a.m. to 11:00 a.m. Duration of the course is one year and can be admitted. Location of the Classes are made it easy that one could easily access to: SALMIYA INDIAN MODEL SCHOOL (www.simskuwait.com), Salmiya, Block 12, Mughera Bin Shuaba Street, Behind Fire Station. Further details can be received by sending message to: Almashoor007@gmail.com or by Phone: 97337861 or by Fax: 24849356

Event Gallery
Comments
You must
login
to post comments.