King Fahd's fountain
: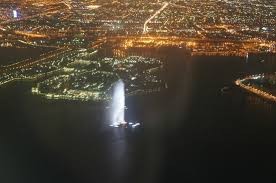 King Fahd's fountain is also called as the Jeddah fountain and is the tallest fountain on the globe. It is a much visit tourist spot if you happen to be in Jeddah.
Profile
King Fahd donated this fountain to Jeddah city; hence it is called as King Fahd' fountain or Jeddah fountain. This fountain was built in between 1980-& 1983 and in 1985, it was launched.
Height
It is situated in the Jeddah coast, KSA's west coast. You can see the fountain spraying water to a 260 meters (853 feet) or 312 meters (1024 feet) over the Red Sea.
Water source
The unique aspect about this fountain, you can witness the fountain from any parts of Jeddah city. The water squirted by the fountain is at a speed of about 233 mi (375km) per hour. Instead of fresh water, the fountain makes use of the saltwater taken from the Red sea. During the night time 500 spot lights are used to shed light on the fountain.
Beautiful views
You can get incredible awesome view if you view the fountain from the beach's walkway. Watching the water gushing out from the sea floor is a noteworthy feature to admire.Your kids will surely admire watching the water gushing out from this beautiful fountain.
Address
King's Fountain Address: Corniche Street, Jeddah, Saudi Arabia
Accomodations near King's fountain
Crowne Plaza
Al Corniche Road, Jeddah 10924, Saudi Arabia Phone:0124-455-1263
Mercure Jeddah Al Hamra
Alexandria Street, Al Ruwais District, Jeddah 21572, Saudi Arabia
Park Hyatt Jeddah - Marina, Club & Spa
P.O. Box 5863, Jeddah 21432, Saudi Arabia, 00 966 12 263 9666
Related News
Comments
You must
login
to post comments.