Jawharat A' Shati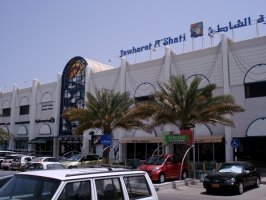 A fine Complex ideally located at the Al-Shati beach, sharing grounds with the Muscat Intercontinental, Sheraton Beach & the Grand Hyatt Hotels, JAS Complex caters to a premium audience who are serious spenders and vary from the western expatriates to well-established locals. In fact, most of the tourists/guests from the neighbouring hotels visit our Complex for some of their serious shopping and spending notions.
The Complex has an excellent track record of being one of the busiest Complex's in Muscat and is proud to be associated with many well-known premium outlets such as; Starbucks Coffee, D'Arcy's Kitchen, Nails, Omani Heritage Gallery, O Sole Mio, Jazz, Moustache, Fotomagic, Muscat Pharmacy, Megastar Music & Little Shop of flowers.
We are open 365 days of the year from 8 am to 10 pm including Fridays and are blessed with ample parking space overlooking a breathtaking sea view. Our list of fine tenants in the office wing also includes local & international companies.
Timings
: 8am to 10pm (open 365 days)
Location:
Opp. Hotel Intercontinental Muscat, at Al Shati
Al Kharijiyah Street
Address:
PO Box No.:56, Al Shati
Postal Code:134
Sultanate of Oman
Tel: (968) 24692113. Fax: (968) 24607412
Email:
helpdesk@jascomplex.com
Web:
www.sjsoman.com
Comments
You must
login
to post comments.