Hoge Veluwe National Park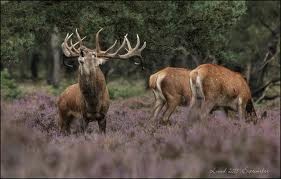 Hoge Veluwe National Park is a Netherland national park located in the Gelderland province and is adjacent to the Dutch cities of Arnhem, Wageningen, and Apeldoorn. The national park is spread on an area fifty square km comprising of sand dunes, heathlands, and woodlands. It is situated in the forest rich ridge mounds of Veluwe. Hoge Veluwe National Park is Netherland's biggest terminal moraine.

You can find the park along with the Visitor Centre(Museonder), Country-residence(Museum) Jachthuis Sint Hubertus, Sculpture Garden, Kröller-Müller Museum creates a peculiar and globally acclaimed blend of art & architecture and nature.
The park has an impressive Fauna population. You can admire around 200 red deer, 50 wild boars, 200 Red deer, 150 Moulfon. Some of the other animals you can fine at Hoge Veluwe National Park are badgers, foxes, and European Pine Marten.

You can come across diverse landscapes in the park. You can have the facility of to ride on white bicycle and tour the park. You can visit the Kroller-Muller Museum and admire the work of renowned painter Van Gogh, Odilon Redon, Pablo Picasso, Auguste Rodin, Georges-Pierre Seurat, and Piet Mondrian. You can also spend your time at the beautiful sculpture garden.

On the park's northern side you can find the Jachthuis Sint Hubertus standing in front of a beautiful pond. You can find the building constructed in the shape of antlers. The building was designed on the guidleines of Saint Hubertus legend. You can find some technical aspect in the building like middle clock system, a central heating, Pullmann sliding windows and electrical lift

Opening hours
The park is normally opened from 09.00 to 18.00 hrs.

Address
De Hoge Veluwe National Park
The Netherlands
31 55-3788116

Accommodation near De Hoge Veluwe National Park
Hotel Arnhem
Amsterdamseweg 505
6816 VK Arnhem
Tel: +31 (0)26 482 11 00
Fax: +31 (0)26 482 16 14
email: [email protected]

Comments
You must
login
to post comments.