Himeji Castle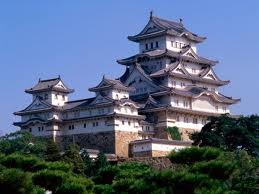 The Himeji Castle is a Japanese caste located on hilltop. It is situated in Himeji in Hyogo Prefecture. The castle is considered as one of the handpicked existing examples of prototypical Japanese castle architecture.The castle encompasses a complex of 83 buildings with highly developed defensive system belonging to the feudal period. Since the castle has a brilliant white exterior and somewhat resembles like a bird taking a flight, it is also popularly know as the "White Egret Castle" (Hakurojo) or "White Heron castle" (Shirasagijo)
The Himeji Castel is one of the most country's popular and most frequently visited tourist destinations.Well know James bond 007 movie, "You only live twice" was shot in this castle in the year 1967. The film had Sean Connery in the lead. The Himeji Castle is very near to Osaka and is surrounded by crimson and pine trees. The castle is located amidst a panoramic and scenic backdrop. It is declared as UNESCO World Heritage site. The Castile was initially constructed in the 14th century during 1333-1346. Later, the castle was expanded from1601 to 1608
How to get there
The Himeji castle is very near to the Himeji station. It takes only some 15 to 20 minutes walk. If you go by bus or taxi, it takes only a 5 minutes travel along the wide Otemae-dori Street to reach the castle.
Timing and fees
Hours: 9:00 to 17:00 (until 18:00 from late April through August)
Entry into the inner castle grounds is closed one hour prior to the closing time.
At 9:15 the admission to the observation commences and ends 45 minutes prior to closing.
Admission: 600 yen (reduced to 400 yen during the renovation period until March 2015)
Observation platform: 200 yen (until spring 2014)
Address: Himeji, Hyōgo Prefecture

Related News
Comments
You must
login
to post comments.