Globe Roundabout, Jeddah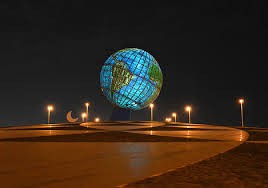 The Globe Roundabout is a renowned tourist attraction and important landmark in Jeddah. It is situated at the junction of King's road and another road that leads to the airport. The globe is made out of glass & steel. The renowned Spanish architect, Julio Lafuente designed the Globe roundabout. The globe is a wonderful sight to watch especially during the night time as it provides spectacular and awesome views. During the night time it is illuminated with colourful lights displaying the image of the world map. The bright globe exhibits the active roundabout in Jeddah's North West where a renowned mall is situated.
Address
Globe Roundabout Al Malak Street, Jeddah, Saudi Arabia
Accomodations near Globe roundabout
Roshan Al Azhar Hotel
Al Steen Street, Jeddah 21456, Saudi Arabia Phone:+966 12 663 9393
Casablanca Hotel
Madinah Road, Jeddah 21481, Saudi Arabia
Related News
Comments
You must
login
to post comments.