The Discovery Center, Sharjah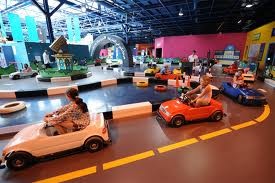 The Discovery center in Sharjah is an ideal place for kids. Children from toddlers up to an age of 12 years can spend and enjoy their time at the center. The Scientific centre was opened to the public on March 1999 and is spread on an area of 3,800 sq.meters. Center ahs different areas to visit like the Sports World, Water World, body World, Drive Town and Build Town, and your kids can feel experiment, sprint and have a nice memorable time.

Apart from this the place also houses a kiddy superstore, recording studio, and bank. Under the safe and secure environs, the toddlers can spend their time. The center also offers fees concessions for schoolchildren.

Though at the outset it seems to be a place to play and enjoy, the cneter's main objective is to educate the youngsters practically about the biological, physical, and technological areas.

The center also boasts of having gift shop, its own coffee shop that offers snacks and other refreshments. There is also ample space for parking the vehicles.

How to reach the center
The center is situated on the Al Dhaid Road, at a distance of 15 kms from the central part of the city. From the Sharjah airport, after the Interchange 4, eh center can be directly accessed.
Visiting hours
On Saturdays to Tuesday, the center is opened from 09:00 to14:00
On Wednesdays to Friday it is opened from 15:30 to 20:30
Admission fees
For Adults the entrance ticket is Dhs 10,for kids in the age group of 3 to 17 years, the fees is Dhs 5
Contact Address
The Discovery Center,
PO Box 24155, Sharjah,
United Arab Emirates
Ph.no: +971 (6) 558 6577
Fax No: +971 (6) 558 6533

Related News
Comments
You must
login
to post comments.