Arabian Wildlife Center, Sharjah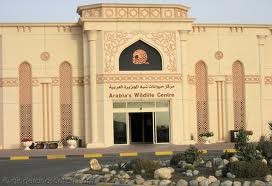 The only zoo in Sharjah that showcases the various kinds of animals is the Arabian Wildlife Center. On September 1999, the zoo was opened to the public, which offers shelter more than 100 animal species in a secured and spacious enclosure; the animals are kept, where the fundamental aspects of the natural environs are preserved. The zoo plays a salient role in spreads awareness among the people, so that the various fauna species and also the species which are on the brink of extinction can be taken care.


Bird Aviary
The Arabian Wildlife Center's Bird aviary is situated in a desert and wadi surrounding. The aviary shelters various kinds of songbirds, flamingos, and Houbara Bustard, Rock Hyrax, and Indian Roller birds. The place features a tank in which there is blind cave fish got from Oman, a walk through cave. Apart from the aviary, little cat animals from the like the wild cat, the Caracal, and the Shy cat can also be witnessed by a visitor.

Nocturnal House
Another place of attraction in the Arabian wildlife centre is the Nocturnal house. It houses amazing mammal species such as 12 kinds of rodents, hedgehogs, mongoose and porcupines. The baboons, Arabian leopard, wolves, cheetah, hyena are some of other animals found in the Nocturnal house.

On the whole the Arabian Wildlife Center is a much sought after place by both the kids as well as the adults.

Location and the wild center's visiting hours
The Arabian Wildlife Center is located at a very strategic locality, at a distance of 26 km from the city center. Te zoo is also very adjacent to the Sharajh International airport.
Visiting hours
From Sat to Wed, the center is opened from 9.00 am to 8.30 pm
On Thursdays the zoo is opened to the public from 11.00 am to 8.30 pm.
On Fridays, the visiting hour of the zoo is from 2.00pm to 5.30pm.
On Tuesdays the zoo is closed.
Contact Address:
Arabia's Wildlife Center,
PO Box 2926, Sharjah,
United Arab Emirates
Tel.: +971 (6) 5311419
Fax: +971 (6) 531 1419

Related News
Comments
You must
login
to post comments.