Galaxyland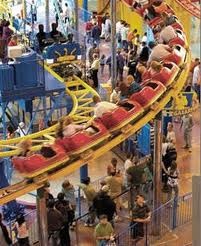 The Galaxyland formerly called as the Fantasyland is the globe's second biggest indoor amusement park. It is located in west Edmonton mall in the city of Edmonton in Canada's Alberta province. The indoor entertainment park houses the Mindbender, the globe's tallest (fourteen storeys) and lengthiest roller coaster. The indoor park also boasts of having the globe's tallest interior tower ride called as Spaceshot (twelve storeys).

Some of the popular rides at Galaxyland
Moto jump: This is a popular beginner's ride suitable for your little ones. The ride is made of miniature dirt bikes and the ATV's go in spherical forward motion.

Carousel: Your kids can ride the Carousel as they can move on merry go around horses, which go in an up and down spherical motion.

Kiddie Convoy: your children can also try this ride as they can travel in a variety of cars, which moves on a pad in a round forward motion.

Balloon rice: Your little ones can also enjoy this ferries wheel ride, with cars designed like a balloon.
35th Aero Squadron: You will find this ride comprising of World War II planes, which moves up and down in a frontward spherical motion

Mindbender: This is the most popular and advanced ride at Galaxyland. This is the Globe's biggest indoor triple loop roller coaster. It is a mirror image and customized "Drier looping" fashioned by Schwarzkopf. Recently the mindbender was customized with new safe magnetic brakes.
Two new rides have been inducted into the parks, they are Sonic twister and cosmic revolution, which has replaced the old rides like the "Galaxy star" and "Sonic storm" respectively.

Some of the other well-known rides are the Perilous Pendulum, Zipper, Orbitron, Auto cars, Harbour cruisers, Galaxy twister, Laser Maze, etc.

Operating hours
The indoor amusement park is opened on Monday to Saturday from 10 am to 10pm

On Sundays it is opened from 11am to 7pm

Address
Galaxyland
West Edmonton Mall, Edmonton, Alberta, Canada
Ph.No:+1 780 444 5300

Related News
Comments
You must
login
to post comments.