Dubai Palm Islands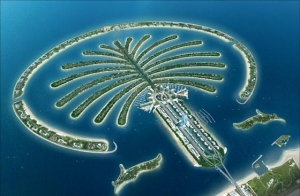 The Palm Jumeirah is the smallest of the three Palm Islands (Palm Jumeirah, Palm Jebel Ali and Palm Deira). It is located on the Jumeirah coastal area of the emirate of Dubai, in the United Arab Emirates (UAE).
The Palm Jumeirah is the most exciting residential project on earth. A man-made island, it is being developed off the shores of Dubai in the United Arab Emirates.
The unique man-made island is built in the shape of a date palm tree and consists of a trunk, a crown with 17 fronds, and a surrounding crescent island that will form a water-breaker.
The Jumeirah Palm island is primarily a retreat and residential area for living, relaxation, and leisure. It will contain themed boutique hotels, three types of villas (Signature Villas, Garden Homes, and Canal Cove Town Homes), shoreline apartment buildings, beaches, marinas, restaurants, cafes and a variety of retail outlets.
Related News
Comments
You must
login
to post comments.