Côte d'Azur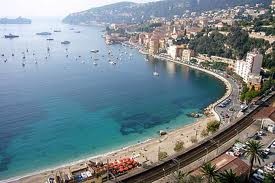 The Côte d'Azur called in the French language as the French Rivera is a coastline along the Mediterranean Sea spread on the southeastern area of France, encompassing the Monaco sovereign state. The Côte d'Azur comprises of shingle and sandy beaches and it stretches to a distance of 560 miles.
Côte d'Azur is famous tourist destination and a number of celebrities have frequently visited this place. The list includes King Edward II, Queen Victoria, well-known writer Somerset Maugham, renowned painter Pablo Picasso, Elton John, etc.
The biggest city at Côte d'Azur is Nice. A tourist visiting the French Rivera can spend their time in Yachting and cruising.
A tourist can visit the some well-known tourist spots located near the Côte d'Azur
Marc Chagall museum
The renowned museum is located in the city of Nice. It showcases big paintings depicted from the scenes on the bible.
Picasso Museum
This museum is located at Antibes and houses the works of the world famous painter, Pablo Picasso.
Some of the other museums present at the Côte d'Azur are Matisse museum, Postcard museum, Fernand Leger museum, etc.
How to get there
The nearest airport for Côte d'Azur is the Nice Côte d'Azur airport, which is located at a distance of 7 km from the hub of Nice
Accommodation
Villa Les Cygnes
6 Avenue Château de la Tour
06000 NICE
Ph.No : (04) 97 03 23 35
Mobile : (06) 32 11 91 52
Fax : (04) 93 44 60 87

Comments
You must
login
to post comments.