Centreville Amusement Park, Toronto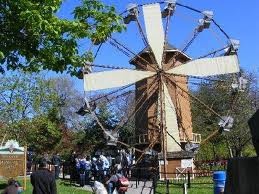 It is a kid's amusement park situated in the Middle Islands, which is a division of the Toronto Islands.
The amusement park houses a 1907 vintage carousel, a windmill-style ferries wheel, swan boats', a 'haunted barrel works' and several kiddies' ride.
Rides and Attractions
The 1907 vintage carousel: The ride offers you with a mixture of fanciful animals.
The antique cars: You can travel around the park in these antique cars.
The ride of Beasley Bear: You are sure to roll in amusement riding on this beautiful ride.
Ferris wheel: You can have a spectacular view of the amusement park and its surrounding are by riding in the Ferris wheel.
Pony Express: You will have a great experience riding on horseback.
Rocky Ferry ride: You need to get ready to face the rough seas, when you embark on the Rocky ferry ride.
Swan Ride: You can have a refreshing and exhilarating experience sitting on the back of this ride, which resembles like a real swan.
Opening hours
The amusement park is normally opened from 10.30 am to 6.00 pm.
Admission fees
For a family pass, which includes a minimum of one adult the amount is $96.00
For ferry rides
The ticket is $6.50 (for adults), $4.00 (for student in the age group of15 to 19 years), and $3.00 (for kids)
Admission is free for kids below the age of 2years.

Address
Centreville Amusement Park
Toronto Islands Park, Toronto, Ontario, Canada
416-203-0405

Related News
Comments
You must
login
to post comments.