Bhavan's Public School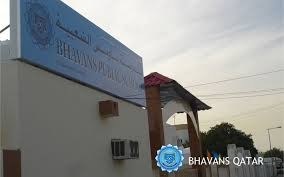 Bhavan's Public School is a renowned educational institution in Qatar. It provides quality education as well as the intention of reinforcing the Indo-Arabic culture.
CBSE
Bhavan's Public School is affiliated to the Central Board of Secondary Education (CBSE), and is endorsed by theState of Qatar 's Supreme Education Council. This educational institution provides classes from LKG to Xth std (from the 2014-2015 academic year). CBSE has provided endorsement for senior secondary level for the year 2015 to 2016.
Academics
The school aspires to provide academic brilliance. A intellectual faculty team with the pioneering notions assists in getting the best from the student by means of the most modern training procedures by offering happy, secular, well-organized, training ambience. This educational institution offers Arabic, Hindi, Malayalam and French as 2nd Language & Arabic, Hindi, ,Malayalam, Tamil, French Telugu, and Urdu as 3rd language. 3rd language is provided from 3rd std to 8th. Std.
Amenities
Bhavan's Public School is well equipped with all modern facillites like library, transport, playground science & computer lab, airconditoned class room, safe and clean drinking water procedure.
Premises
Bhavan's Public School has two premise located in Wakra & Matar.
Documents required for admission
For 2nd std , equivalence certificate that is provided by the SEC.
Appicant's Qatar ID (mandatory)
Applicant's birth certificated copy
Latest passport photos (4 Nos.)
Transfer certificate that is properly signed the respective embassy, Educational board (for students residing outside India) Education Ministry – Education officer (for the students coming from India)
Vaccination chart & Health record
Medical certificate
Residence permit that is provided by the Ministry of Interiors.
Passport copies of children as well as parents which should be presented for the Resident permit verification.
Report card copy.
Contact Us
Bhavan's Public School P.O. Box - 80569, Al-Wakra, Qatar. Email ID:
[email protected]
Wakra Premises
Tel: 00974-44770770, 00974-44771100 FAX No: 00974-44760312.
Matar premises
Tel: 00974-44657166, 00974-44772250 & 00974-44772251 FAX No: 00974-44761504
Comments
You must
login
to post comments.