Barcelona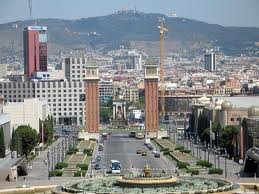 Barcelona is the second biggest city in the country of Spain. It is a beautiful city and is a well-known tourist destination. The Christopher Columbus Statue, Aquarium Barcelona are some of the following well-known tourist spots in Barcelona.
Christopher Columbus Statue:
This is a loft monument at La Rambla's lower end. The monument was constructed in the year 1888 at the same location, where Columbus returned to Spain after discovering America.
Aquarium Barcelona (L'Aquàrium de Barcelona in Spanish)
L'Aquàrium de Barcelona is one of the world's renowned marine education and leisure centers. It boasts of housing 11,000 animals of 450 varieties .The aquarium has a chain of 35 tanks and an 80 meter underwater tunnel. The place has a big oceanerium with the quantity of water amounting to six million liters. The aquarium has already attracted 14 million visitors. Some of the tanks kept on the display are the Mediterranean tanks, Mini Aquarium, Tropical tank etc.
The Mediterranean tanks: The visitor without getting wet can dive deeper and deeper into all the 14 tanks which represent the various communities of the Mediterranean. The visitor can see the shark in secured environment and he will get a feeling that as if he is swimming with the sharks.
Visiting hours
From Mon to Fri – 9.30h to 21.00h
On public holidays, pubic holidays- 9.30h to 21.30h
Fees
For Adults the fees is 17.75 €
For kids in the age group from 3 to 12, the fees are 12.75 €
For elderly people who are above the age of 60, the fee is 14.75 €
-Address: Moll d'Espanya del Port Vell, s/n 08039 – Barcelona
Telephone: 93 221 74 74
-Fax: 93 221 92 26

Accommodation

Gran Hotel Torre Catalunya
Avda. Roma, 2-4 · 08014
Barcelona · España
(+ 34) 93 600 69 66
[email protected]
Related News
Comments
You must
login
to post comments.