Al Sha'ab Leisure Park in Kuwait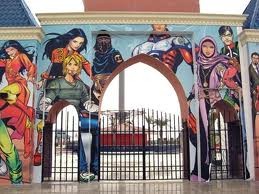 One of the most prominat tourist destinations in Kuwait is the Al Sha'ab Leisure Park. Kuwait Commercial Markets Complex Company developed the park. It is located at Sha'a on Kuwait's southern coastal region. Annually, nearly 8, 00,000 visitors visit the park. The park has a variety of recreational activities as well as video and sports games. The Par boasts of a unique credit of being the first Kuwait amusement park to get an ISO-9002 certification.
The park is spread on an area of 140,000 sq.metres. It has the latest indoor games, rides, different adventure sports, comprising a roller skating ring and ice skating ring. There are a number of shops, mulitcuisine restaurants providing national and international foods. At the landscaped garden, a visor can take a leisurely stroll or he can enjoy seeing a film at the theater located in the park. Al Sha'ab also has a museum to its credit.
Address:
Al-Sha'ab Leisure Park
P.O Box : 6237
Salmiya, Kuwait
Telephone: 25613777
Comments
You must
login
to post comments.