Al Omar Mosque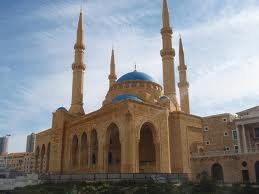 The Al Omar Mosque is a well known mosque in the capital city of Lebanon, Beirut. It is one of the ancient and biggest mosques in Beirut city.

The mosque is renowned for its splendid outlook and architecture. You can stroll along the sprawling courtyard and admire the beautiful roman columns.

It is believed that Al Omar Mosque was constructed from the remnants of St.Church.The mosque previously housed the hair locks of Prophet Mohamed. It was placed in a chest and was kept in a room covered with dome, which was known as the "room of the hair lock".

The people of Beirut used to worship this holy relic, till the chest got disappeared during the 1975 Lebanese civil war.
The beautiful chandeliers and spacious interiors are sure to impress you.

The Al Omari Mosque is regarded as memorials of Islamic conquests at first century's dawn.

Address
Al Omar Mosque
Beirut, Lebanon

Related News
Comments
You must
login
to post comments.