Wild Wild Wet Park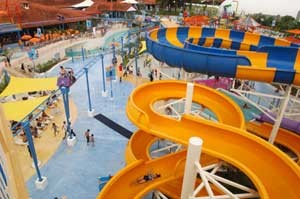 The wild wild wet is a water theme park owned by the NTUC club, Singapore. It is locate in the NTUC downtown East, Pasir Ris area of Singapore.
The water park was opened in the year 2004. It has some 9 water rides. .
It has Slide UP, a 4 storey ramp ride. In this the riders will be accerlated down; around the deck they will be skimmed. Then they will be soared up in the opposite direction.
It also has a pair of water slides. One is closed and another is opened.
Ular-Lah: It is the primary water slide in South East Asia. 6 riders are accommodated in each ride. The rafters will plunge down to 80.5 m long freefall chute and after that will steer all the way down to a low swimming pool.
The park is opened throughout the year.
(Mon, Wed, Thu & Fri- 1pm to 7pm, Sat & Sun 10am to 7pm, Tues closed)

Adult (aged 12 and above) $16.00
Child (aged 3 - 11 years old) $11.00
Family (2 adults and 2 children) $44.00
nEbO $11.50
Senior Citizen (aged 55 years old & above) Free admission
Locker Rental (Coin Operated) $1.00 - $3.00
Address Downtown East 1, Singapore Location Pasir Ris ClosePhone65/6581-9128Web Sitewww.wildwildwet.com

Comments
You must
login
to post comments.