whale watch tour in Boston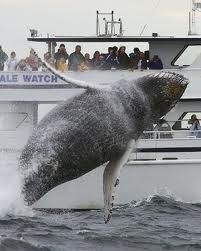 Boston is one of the ancient cities in the United States. It is the capital and biggest city of the state of Massachusetts. The city is also one of the most popular tourist destinations of the country.The city offers a plethora of entertainment.One of the most popular amusement activity is embarking on a Whale watching cruise.
The whale watching tour
You can travel on a high speed catamaran, and gaze at the magnificent and beautiful whales. You will be assisted by a guide belonging to the famous New England's whale center. The hump back is one of the whales' species; you may across on your cruise. The humpback whale of Northern hemisphere weighs nearly 37 tones in weight and grows to a normal 50 feet in length. It is sad to note these are endangered species and only a meager eight percent of the original population now exists.

To get the finest visibility, the Catamaran is designed with three external decks. You will have the comfort of having a cabins space, in which you can regulate the climate, with well furnished tables, cushioned chairs, high-tech audio visuals, and also a galley that sells beverages and snacks.
Duration of the cruise
Each cruise lasts for a duration of three hours.
Point of Departure
Each cruise starts from the Boston's Long wharf point.
Timings for departure
Regular weekly departures at 10.00am, 10.30am, 12.00 noon, 12.30 pm, and 2.30 pm.

Every cruise returns back to the point from where it departed, i.e., Long wharf
Fees
The fees for the cruise costs around $46.15
Contact Address
1 Long Wharf Boston,
MA 02110,
United States
Ph.No.(617) 227-4321



Related News
Comments
You must
login
to post comments.