The Wild Wadi Water theme park, Dubai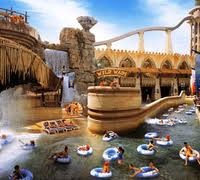 The Wild Wadi Water theme park is a well-known theme park, situated in the Jumeirah area of Dubai. This open-air water park features numerous water slides, a heated/cooled wave pool, and 2 surfing machines made artificially. Apart from this the Wild Wadi also has the biggest water slide other than the one in North America. The theme park also boasts of having 3 restaurants, 2snack stands and 2 gift shops.
Rides
You can have a good time by riding some of the rides in the park.
Master Blaster
The Master Blaster is regarded as "uphill water roller coasters". You can sit in a dual or single ring and water jets, which are highly powered, propels you uphill in a safe and secure manner.
The Master Blaster ride also consist White Water Wadi, Wadi Leap, Jebel Lookout, Falaj Fury, Hos'N Hurler, Wadi Basher, Wadi Twister and Flood River Flyer.

Ring Rides
You can also ride the traditional rides like the Ring rides. You can opt to sit to either in dual or single ring.
The Ring Rids comprises Falcon Fury, Tumble Falls, Thunder Rapids, Rushing Rapids and Tunnel of Doom.
Jumeirah Sceirah
You can take pleasure in riding the Jumeirah Sceirah, the most popular of all rides. It is indeed the loftiest and the fastest free water slide situated outside the North American continent. You will be lifted to a height of 108 ft (33m) at a speed of 50 miles per hour (80 km per hour).
Some of the other attractions in the theme park, which you can enjoy:
The Juha's Journey
A 1,180 ft or 360 m long river, which permits you to unwind yourself and float slowly about the park.
Juha's Dhow and Lagoon.
This is an area for the kids, which has more than 100 water rides and games.
Opening time
The theme park is opened from 10:00 hrs to 19:00hrs
Admission fees
For Adults the admission fees is USD 76, for infants, the admission is free.

Address
Wild Wadi Water theme park
Jumeirah Beach road (ahead of Burj Al Arab)
Dubai, UAE
Ph.No: +971 4 2292675, +971 50 1130874 (24 hrs mobile)
Fax: +971 4 2292674

Related News
Comments
You must
login
to post comments.