The Kinkaku – ji (the golden pavilion temple)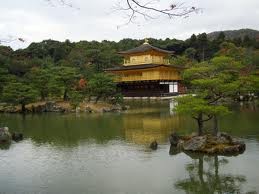 The Kinkau-ji called as the temple of golden pavilion is Zen Buddhist temple that is situated in Kyoto of Japan. The temple is also known by other names as Rokuon-ji or the Deer garden temple. The temple is situated in an enchanting scenic locale that is surrounded by pine trees and ponds. The temple is declared as a UNESCO world heritage site. The garden complex is an ideal instance of Muromachi period design.
The Kinkaku-jiis located on a building with 3 storeys. It is situated on the Rokuon-ji temple complex grounds. A pure golden leaf covers the top two floors. The golden treasures the relics of the Buddha (the holy ashes of Buddha).
Each floor is attributes to a different architectural style. The temple of golden pavilion stretches over a mirror pond called as Kyōko-chi in Japanese language. Attached to the back of the pavilion is a fishing deck that permits a tiny boat to anchor beneath it. The ground of the Kinkaku-ji is constructed on the lines of the Western Paradise of the Buddha Amida that plans to depict the harmony that exist amid the earth and heaven.
Visiting time
The temple is opened from: 9:00 to17:00 hours
The Kinkaku-ji Temple is opened to the public throughout the year.
Admission fees
The entry ticket for Adults to the temple (as well as High School students) is 400 yen
For the kids (that includes the Junior High, Elementary School students) is 300 yen
Address
Contact Address: 1 Kinkakuji-cho Kita-ku, Kyoto, Japan
Contact number: 075-461-0013
Boarding point: City Bus Stop Kinkakuji-mae / City Bus Stop Kingaku-ji-michi

Related News
Comments
You must
login
to post comments.