The Hiroshima Atomic Bomb Dome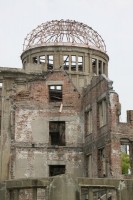 The official name for the Hiroshima atomic Bomb dome is Hiroshima Peace Memorial (Genbaku Dome). The Memorial has another familiar name called as the A-bomb dome. The Bomb dome is one of Hiroshima's well-known landmarks. The Peace memorial has been declared as UNESCO World Heritage Site. From the Hiroshima Peace Memorial Park, the bomb dome is situated across the river
Previous to the bombing of Hiroshima by the US forces, the Hiroshima Atomic Bomb Dome was called as the Hiroshima Prefectural Industrial Promotion Hall Subsequent to the bombing for a moment it was widely believed, that the Bomb dome was ground zero. Nevertheless, meticulous calculations reveal that the Bomb dome was 150 m away. But eh ground aero was a bit of Misnomer because the atom bomd exploded as planned roughly 2000ft (600m) above the city. .
A visitor visiting the bomb dome can witness the rubbles, formed as a result of bombing. The beams remain exposed. It's doubtful as years go by, it will be difficult to preserve the bombed structure. The already damaged concrete and mortar is struggling to withstand against the cliamtic odds.
Admission Free of charge (exterior only)
Open
Address 1-10 Ote-machi, Naka-ku, Hiroshima-shi, Hiroshima
Phone 082-247-6738
Access: From Hiroshima eki-Mae streetcar stop: 15 mins by streetcar bound for Eba / Koi / Miyajimaguchi, From
Genbaku-Dome-Mae stop: instant admission
Related News
Comments
You must
login
to post comments.