Skydive Paradise, Queenstown.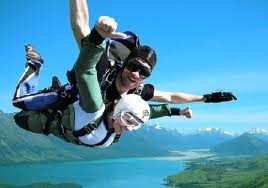 Queens town is a well-known town in New Zealand. It is center for adventure tourism, a visitor can indulge in abundance of activities stored in for him, he can go or skiing, bungy jumping, white water rafting, mountain biking. There are a number of resorts, where you can find these kind of activities, one such place is the skydive paradise, annually, a number of tourists make a beeline to Skydive Paradise.

At Skydive Paradise, you can explore your own usual height, whilst leaping from 15,000 ft plane on top of the most spectacular alpine landscape of Newzealand. You can freefall at a speed of 200kmph over the Fiordland National Parks, and Mt Aspiring, a portion of the Te Wahipounamu World Heritage Area, the site for green stone.

You will be guided by experienced professional instructor, while skydiving you will come across, large blue lake, snowy mountains, lush green landscape. Skydive paradise is an ideal place, to start your New Year celebration.

Admission fees
TANDEM Skydive Altitude choices
For 15,000ft, the fees is $399, it includes fifteen to twenty minutes picturesque flight, freefall for sixty-five seconds, under canopy ride for five to seven minute.
For 12,000 ft, the fees is $325, it comprises of fifteen to seventeen minute flight, freefall for forty five seconds, under canopy ride for five to seven minutes ride.

Address
Skydive Paradise
Glenorchy Airfield
Queenstown, New Zealand
Ph: 0800 475934 / 03 442 8333
email: [email protected]

Accommodation near Skydive Paradise, Queenstown
The Dairy
Private luxury hotel
Corner of Brecon and Isle streets
Queenstown, New Zealand
Phone - +64 (0)3 442 5164
Fax - +64 (0)3 442 5166


Related News
Comments
You must
login
to post comments.