Sharjah City Centre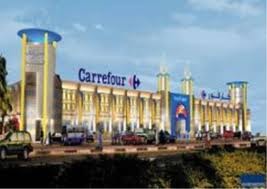 Sharajah city centre is a major shopping mall situated in the hub of Sharjah, down the major Al Wahda Street. The mall houses 117 stores and is spread on a 37,896 square meters total retail floor area. Some of the anchor stores present in the mall are Borders, New Look and H&M. The City centre also boasts of having other entertainment and leisure activities like the Magic planet and the sixteen fast-food outlets.

Some of the stores present in the mall
Baby shop
It is one of the major anchors present in the mall. The baby shop is the ancient as well as the biggest baby stores chain that sells items like baby carriages, strollers, baby beds, car seats, baby clothing, baby toys, and accessories.

Carrefour
It is a leading global hypermarket brand that sells a broad range of merchandise items like bakery, grocery, electronics, deli, clothing, home appliance and a lot more.

Gulf Greetings
The Gulf Greetings is Hallmark's authorized distributor selling its greeting cards in the United Arab Emirates. In addition to selling the cards, the store also sells items like toys, gifts and memento stuff at affordable prices.
Al Falak Electronics
This is an Electronics stress focusing on selling well-known brands of camcorders, and cameras.
Monsoon
This fashion house having it base at London sells unique and stylish fashion design for women.
Nayomi
This leading retail sores sells night wear and lingerie items.
Balmain
Pierre Balmain, renowned fashion designers sells a variety of menswear items.

Body shop
Body shop sells superior quality natural cosmetics and toiletries. The store provides 900 wonderful varieties that range from body bath choices home fragrance and makeup items.
Pure Gold
This well-known store sells a broad collection of diamond, gold and pearl items.

Business hours
From Saturday to Thursday, the mall is opened from 10am to 10 pm
On Fridays, it is opened from 9:30am to 11:30am & 1:30pm to 12:00am
Contact
Sharjah City Centre
Al Wahda Street, Industrial Area 1
Sharjah, United Arab Emirates
P.O.Box: 38238
+971 (6) 533-2626
Customer Service:
Email: +971 6 532 7700 [email protected]

Related News
Comments
You must
login
to post comments.