Beirut Mall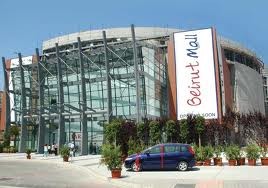 The Beirut mail is a well-known shopping centre in the city of Beirut. It was opened to the public on 21st Dec, 2006. The mall offers an experience of one stop, everything under one umbrella, with broad range of shop covering all genres. The Beirut mall housed the well-known Farm superstores, which provides service for more than twenty five years in Saudi Arabia. You can also find one of the most famous indoor theme parks, the Adventure world situated inside the mall.

Some of the leading stores you can find in the mall are fashion stores like Vero Moda, Bossini, Titanos, Bossini, Kids fashion stores such as Khabbaz , Exit, Okaidi Adams' Kids, Original Marines, footwear & Leather goods shops like Aldo, Nine West, AQ Shoes and Bags, Geox ,Shoe Avenue.

You can also drop into any of the other famous watch stores such as Sundial, Time zone, Damas, Citizen, Swatch, etc. The Beirut mall also houses renowned bookshops such as Abed Tahan, Malik's, Star commuiniaitons, beauty and cosmetic sots like Ramzi And Hanan ,Make up forever, Perfume Gate, Relax, Khan El Saboun.

The Beirut Mall is spread on an area of fifty thousand square meters. It has four underground floors and 4 floors above the ground.

At the Food court, you can also find various kinds of cuisines and its closeness permits the shopping center an appropriate spot for Beirut's one third population and to the several tourists of Lebanon.

There is also spacious underground parking area that can accommodate 650 cars at a time. Inorder to offer immediate and easy access to the shoppers, the mall is strategically situated.

Opening hours
The mall is opened from 10:00 to 22:00 hours.
Address
Beirut Mall
Old Saida Road Tayouneh
Tel: +961 1 385888, Fax: +961 1 385331


Related News
Comments
You must
login
to post comments.