Rosellas Family Sports and Amusement Park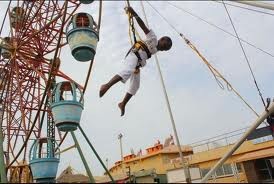 The Rosellas Family Sports and Amusement Parks is a family owned. Initially the place was a warehouse which was over the years turned into an amusement park. The park is located on the Idimu-Isheri-Igando-lasuin road in a tranquil setting, free from the hustle bustle life of Lagos metropolis.

Some of the attractions you can find in the park are Inter-House Sports, Swimming Pools, Football field | Musical Jamboree, Father Xmas, Competitions, Theatre Arts, Bouncy Castle & Merry-Go-Round, Rolla coaster, Trampolines, Dinghies, Spider's Web , Boat Ride, Various Slides &Swings, Numerous Mascots, Volley Ball, Badminton, Snooker Boards, Basket Ball, Table tennis, , Cartoons, and lots more.
The Mascots are also let out for rentals
Opening hours
On Monday to Saturday from 8:00 am - 6:00pm
On Sundays from 12:00 noon - 6:00pm
Amusement Park Address:
Km 3, Idimu - Isheri - Igando - LASU Rd
Rosellas Bus-stop, Opposite Total Petrol Station,
Igando, Lagos Nigeria.
Email Address: [email protected] or [email protected] or Telephone Number:
Ph.No: 08035536371, 08081112211

Comments
You must
login
to post comments.