Pigeon Rocks, Raouche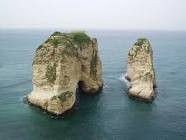 Raouche is a business and residential area. It is renowned for its chic residence structures, several eateries, and sea cliff side snack bars, which line up the Avenue de Paris, forms portion of the Corniche Beirut. The Avenue de Paris's sidewalk is a very famous week end getaways.

Just off the Raouche's coast you can visualize the Pigeon Rocks, (otherwise called as the Rock of Raouché. It is situated in the westernmost edge of Beirut. The two lofty stony creations stand as marvelous sentinels, and is a popular tourist spot for the tourists as well as for the natives.

Recently, the structure was portrayed in Bing belonging to Microsoft.

A few historians consider Rouche was derived from the rosh, an Aramaic word, which means head, while a few others argue that it is an altered form of the French word rocher (roche), signifying rock.

The shoreline adjacent to the Raouche, has given ancient human existence traces in the region, fundamental stone weapons and flints, which are potrayed in the archeological museum of AUB.

The place is also known destination for the global diving contest. You can also find the spot swarmed with a number of bikers and joggers.

Address
Pigeon Rocks
Raouche,
Beirut, Lebanon

Related News
Comments
You must
login
to post comments.