Mazury, the land of thousand lakes.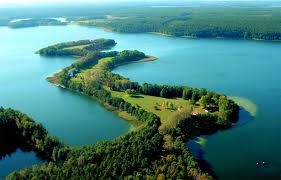 Mazury, petnamed the land of thousand lakes boasts of having 1000 lakes in varying sizes, interlinked by canals. The region is a safe hub for lovers, kayakers, and sailors.

Apart from a number of tourists Mazury is also frequented by wildlife enthusiasts as it houses a variety of storks, elk, deer, wolves, boer, etc.

The landscape of Mazury is in fact fairly spread out with forest lakes, valleys and hills making it a perfect ambience for hikers, horse-riders, and cyclists.

Among the Kayakers, the Krutynia River is a very popular one. It is regarded as a hassle free and easy to cruise river for beginners. There are several attractive lakeside views alongside the river course and charming waterfront hamlets.

It is interesting to note that "Wolf's Lair", the command center was utilized by Hitler is situated in this region, in the tiny hamlet of Gierloz. There are not much remnants of the complex, as it was blown up the withdrawing Nazis as well as the invading Red armies. Some of the existing remains; you can find include a bunker used by Hitler.

Many polish people find Mazury, fully cradled in forests, a perfect weekend retreat., with several cabins, hotels alongside the shores of the lakes.

Accomodation at Mazury
Hotel Mazury
Aleja Wojska Polskiego 56 Gmina Giżycko, Poland
87 428 59 56

Related News
Comments
You must
login
to post comments.