To post your Indian Association, School News Please send your news details and images to
editor at abroadindians.com (replace at with @) and our editor will publish.
Jack & Jill Preschool welcomes its LKG students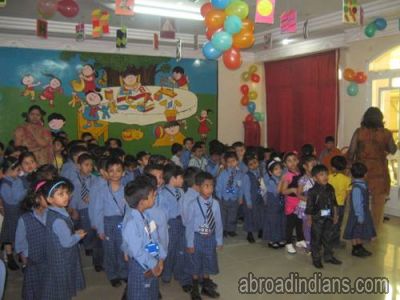 It was a bright, sunny and a beautiful morning with a clear blue sky on the 6
th
of April 2011. On this day, the teachers of Jack & Jill Bhavans, Mangaf LKG wing were excited and anxious to greet their new batch of students as they renewed their commandments – to look beneath the grin, to look beyond the tears, the frowns and the fears, the runny nose and the endless doubts – to look for that which sparkles to search beneath the surface and to find gold in each and every student.
To welcome the children some icebreakers were presented that morning. "The Three Little Pigs", a skit presented by the LKG teachers amused & enthralled the children putting them at ease. The children swayed to the music of "Old McDonald" & "Mulberry Bush" & clapped merrily to the tunes along with their teachers as they looked forward to a happy & fun filled year.
The principal Mrs. Rathi Ravindran, Vice Chairperson Mrs. Indu Bala Khandelwal and Richa Khandelwal were present to cheer the children and wish them their very best on their first day at Kindergarten.
Event Gallery
Comments

Luvisa Dsouza
- Apr 28
I wish all the new children and their teachers of Jack n Jill all the best.

Specially the teachers to have a lot of patience with the kids of the new generation.

Good luck.
You must
login
to post comments.