International Indian School Dammam (IISD)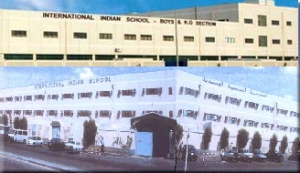 The school was established on 10 Oct 1982 with 250 students and 15 teachers in a few portacabins Today the strength is 15000 students, above 700 teachers, 30 administrative staff apart from a fleet of 70 buses on hire from SAPTCO and 100 janitorial staff on hire from the local contractor. It is certainly the biggest school not only in the Kingdom but in the entire Gulf.
It is affiliated to the CBSE and has all the three streams – Arts, Science and Commerce. The result at Class X is 100% and Class XII is 99.2% in 2010. 695 students appeared at Class X. In terms of grade points 11 students secured 10 out of 10 while 28 of them scored 9.8 out of 10, 40 of them scored 9.6 out of 10, 42 of them scored 9.4 out of ten, 36 got 9.2 and another 50 scored 9 grade points.
In Class XII 423 students appeared. 25 secured above 90%, 128 above 80%, 251 above 70% and the remaining below 70%. The result is not only by far the best in the Kingdom but compares favourably with any school anywhere in the country or in the gulf. We enhance our teachers potentials by regular workshops, inservice training, regular pep talks and staff development programme.
Despite the constraints of space, over crowded classrooms, different campuses spread at different places, universal admission policy, admission round the year, the school has been functioning exceedingly well almost in a copybook fashion.
Contact Information
Po Box 3320
Khobar - 31952
Phone: 814 2801
Fax : 814 2806
Web:
www.iisdammam.edu.sa
Related News
Comments

abed hussain
- Feb 06
one of the guy from iisd gave the audition of roadies 8.0 with raghu, on MTV but he fails to describe himself.

ghjk;
(Guest)
- Jan 12
don't be very proud of iisd. because some ghatiya log also working there as a teacher. she is in ukg villa. she not at all deserved for a teacher. i highly recommed her for a job as a jenitor. she 100% ***** to clean toilets.

obiadullah
(Guest)
- Jan 02
assalamo alaikum alhamdulillah maine indian school ka jayaza liya bahut accha laga
You must
login
to post comments.