IN10SO, Serafi Mall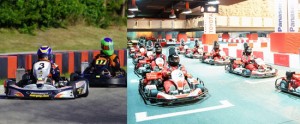 IN10SO is a renowned game & entertainment centre in Jeddah. It is situated on the Tahila street in Serafi Mega Mall.The gaming can be found on the 3rd floor of the mall. Go Karting ( indoor car racing) is a popular entertainment activity in which you kids can take part and have a great time . IN10SO provides everything that you dream. The laser tag game which you admired in moves is available at IN10SO. Your kids can also play Xbox and other exhilarating games. It is a perfect place of your kids and family members Some of other games which you can participate are billiards, arcade games, snow bowling, shooting, air hockey, pool tables, rock climbing, etc. After playing the exciting games you can chill out tasting the delicious foods in the food court area.
Opening hours
One Sunday, Monday, Tuesday & Friday - From 4.00pm to 12.00am
Tickets
Fee: SR 50 to 100 depending on the number of entertainment activites selected.
Address:
Serafi Mega Mall, Tahlia Street, Jeddah 21563, Saudi Arabia Phone Number: +966 12 284 4991, 2844992,
Related News
Comments
You must
login
to post comments.