Ice skating rink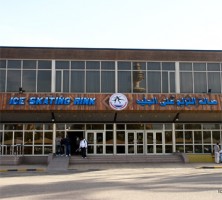 The Ice skating rink in Kuwait is a main landmark and an exceptional sporting facility. The rink was established in 1980 and is the initial facility of this type in the Gulf region. It is stretched on an area of about 8398 square meter alongside Kuwait city's Green Fence area. You can find 2 major rinks in this amusement place. The first one is the Olympic rink which has ice spread on area of more than 1800 sq. meters and can accommodate about 1600 spectators. You can enjoy all the fundamental amenities available in this entertainment spot. Some of the amenities you can make use of are skating equipment store, shoe changing room, first aid facility, etc. You can chill out at the cafeteria that provides tasty snacks, pastries, and various beverages. The second rink with a seating capacity of about 600 spectators was established in the year 1981. You can witness numerous foreign teams' ice skating performance. Some of other entertainment activities which you can take part in are kids show, musical artistic festivals, etc.
Timings
Open from 8:30 to 22:00 hours daily
Contact
Al-Soor St. & First Ring Road Shamiya Tel: 22411151 / 52
Comments
You must
login
to post comments.