Haifaa mall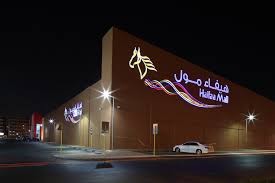 Haifaa mall serves as a popular fashion hub in the city of Jeddah. It is well located in the renowned Palestine Street & Madina road that is constructed with a simple single floor access & transportation. Haifaa mall serves as the shopping centre for the perfect shoppers. A number of renowned global fashion brands anchors this single floor mall. The mall also house prayer halls, ladies' fitting rooms and entertainment centres like Billy beez.
Fashion outlets

Kid's fashion
Some of the well known Kids fashion outlets which you can come across in this mall are Ziddy, Orchestra, Ginger Snaps, Okadi, FG4, Gymboree, etc.
Men's fashion
Gant, Giordano & Blue Age are some of the Men's Fashion stores where you can purchase the latest trendy wears.
Ladies fashion
Berksha, Beauty Saloon, Etam, Cache Cache, New Look, Nichii, New Yorker, Mavi Jeans, Mango, Lola, Koton, etc are some of the famous outlets where stylish dresses can be purchased for your spouse.
Arabian garments
Al Qassmiya , Wahat Al-Jalabiya , Nawaem are some of the outlets where you can find Arabian garments.
Jewel outlets
You can find the latest jewel collections Damas located in the ground floor of the mall provides the trendy Jewels.
Home furnishing
You can also shop for the elegant home decor items and other accessories at the home furnishing stores like Orange, Ferrucci, Think Kitchen, etc.
Entertainment centre
The Mall also houses the renowned Billy beez centre where you children enjoy taking part numerous fun filled rides & games.
Other outlets
The mall also boasts of having a number of renowned eyewear stores, Cosmetics & perfumes, Gifts & Toys shops, etc. On the whole, the Haifaa mall provides ultimate enjoyable and memorable shopping experience for your kids and family members.
Opening hours
From Sunday to Wednesday Stores opened from 10:00am to 12:30pm & from 5:00pm to 11:30pm The Food court is opened from10:00am - 12:30am Entertainment 10:00am - 12:30am Thursday Stores 10:00am - 12:00am Food court 10:00am - 1:00am Entertainment 10:00am - 1:00am Friday Stores 5:00pm - 12:00am Food Court 1:30pm - 1:00am Entertainment 1:30pm - 1:00am Saturday Stores 10:00am - 11:30pm Food Court 10:00am - 12:30am Entertainment 10:00am - 12:30am
Address
Haifaa Mall
Madinah Road, Palestine Intersection
P.O Box: 126359 Jeddah 21352
Kingdom of Saudi Arabia
Contact Numbers
Telephone: 00966122908636
Fax: 00966122880816
Comments
You must
login
to post comments.