Fakieh Aquarium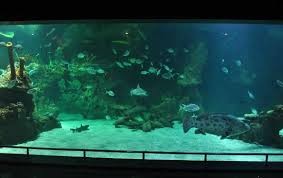 Fakieh Aquarium is a major tourist attraction in Jeddah. This aquarium is one of a kind in the kingdom of Saudi Arabia. The aquarium encourages the environment's conservation through spreading knowledge by means of education & entertainment.
Most of the species which you will find in this aquarium can be seen in the Red Sea and that provides you a glance of the beauty & splendour the Red Sea possess.
You can find the modern auditorium well equipped with the most modern amenities. This auditorium offers particulars regarding the sea wonders . Apart from this you can come across sports club with Watergate, swimming pool & innovative games.
You can find a variety of beautiful fish species like the appealing star fish , jelly fishes, sea horses, sharks, etc and other attractive fishes in vibrant colours in diverse shape & sizes.
Other noteworthy features you can enjoy are the dolphin & Seal show.
You also have the convenience of dining some lip smacking delicious dishes at the restaurant located inside aquarium
Opening Hours
From Saturday to Thursday opened from 10:00 am To 11:00 pm
On Fridays opened from 01:30 pm To 11:00 pm
Opening hours during vacation: from 01:00 pm to 01:00 am
Except Friday : Opened from 01:30 pm To 01:00 am
Tickets
Admission fees for the aquarium is SR 50
SR 50 for Dolphin shows
Address:
Fakieh Aquarium Next to Al Nawras,
On oposite Al Shallal Theme Park- Corniche Road
Jeddah, Saudi Arabia.
Telephone : 012-6066144 , 966228802081
Email : [email protected]
Related News
Comments
You must
login
to post comments.