Entertainment City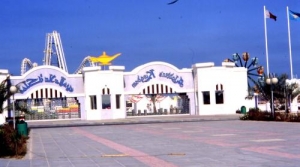 Packed with enthusiasm and a range of thrilling rides that are sure to send kids wild with joy, Entertainment City in Qatar presents the perfect destination for a fun filled family trip in Qatar. Entertainment City is an impressive theme park has been designed with kids specifically in mind and features a host of rides.
Visitors to the park will discover that it features rides including roller coasters, bumper cars, an enormous Ferris wheel, an ice rink, and a roller skating area which is sure to thrill both adults and the kids. In total there are 18 different rides on offer ensuring that there is a variety of choice for rides when visiting this destination.
Kids can bounce around on the trampoline or engage in the arcade that offers various mini-games and video games and make various handicraft items in the Print and Stamp Club which all present a different experience from the usual array of activities that take place here.
Other facilities on offer here include a theater and cafeteria in addition to various places to stop and take in the atmosphere. Visitors can also indulge in the daily parade and a variety of shows in the amphitheatre.
Visitors should note that on Mondays and Wednesdays men are not allowed in to Entertainment City as these days are reserved strictly for women and children under 12. Beyond this, the park is generally open from 4pm to 11pm.
Entertainment City presents the chance for a fun filled family trip. When traveling with the family this destination presents an ideal option as it presents something for everyone, both kids and adults.
Related News
Comments
You must
login
to post comments.