To post your Indian Association, School News Please send your news details and images to
editor at abroadindians.com (replace at with @) and our editor will publish.
DR. AL MASHOOR MEETS SHAIK MESHAAL AL JABER AL AHMED AL SABAH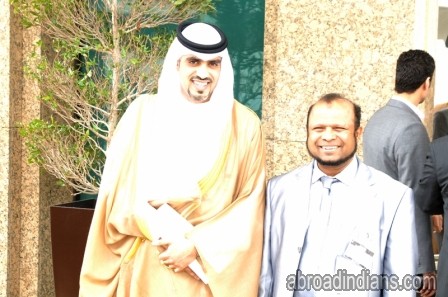 President of Indo-Kuwait Friendship Society, Dr. Ghalib Al-Mashoor met H.E. Dr. Shaikh Meshaal Jaber Al-Ahmed Al-Sabah, Chief of Kuwait Foreign investment Bureau at the side-lines of "Euro-Money Kuwait Conference" held on 27th March at "Court Yard Marriott Hotel". More than 300 Senior executives of International Banking and Financial Industries attended the conference and discussed about Kuwait's future economic outlook and Kuwait's Foreign Investments in several countries spread among the Globe. Shaikh Meshaal said that IKFS executives are most welcome to discuss about various projects to be carried out thru mutual understanding and joint venture which could be beneficial to the people of both friendly countries India and Kuwait. He added that "Kuwait Foreign investment Bureau offices" are functioning under the umbrella of the Ministry of Commerce and Industry in Kuwait.

Shaikh Mashaal invited Dr. Ghalib to visit H.E.'s offices for further discussion of different investment projects to be carried out which will further cement the centuries old bilateral relationship between Kuwait and the world's best democratic /largest populated country India.

Comments
You must
login
to post comments.