Capital Gardens Abudhabi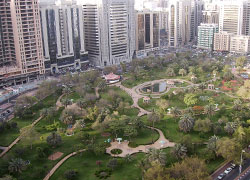 This refurbished park is a welcome patch of green in the middle of the city. Each little garden cove has a small selection of climbing frames, swings, slides and stunning fountains. Vending machines and an enclosed cafeteria provide refreshment.
Opposite NBAD (National Band of Abu Dhabi), Al Markaziyah
Tel: +971 2 449 4303 (Abu Dhabi Municipality - Agriculture Department)
Open 24/7
Related News
Comments
You must
login
to post comments.