Busch Gardens Tampa Bay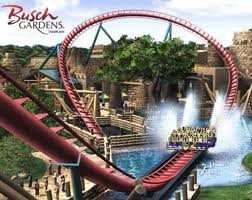 The Busch Gardens Tampa Bay previously called as the Busch Gardens Africa is an African theme park. It is situated in the Tampa city in the state of Florida. The theme park is spread on an area of 335 acres. Busch Gardens boasts of having a total of 24 rides out of which 8 are roller coasters and 3 water rides. The theme park also offers shelter to different species of animals ranging from the alligators to the zebras.
The theme parks are segregated into theme areas such as Morocco, Nairobi, Stanleyville and the Congo.
Morocco
It forms the main entrance of the park and it houses the percussion ensemble and the Morocco brass' mystic sheikhs. You can buy refreshments at the Zagora café and the Sultan's sweets. A visitor can also spend his time at the Morocco Palace indoor theater, which has a seating capacity of nearly 1200 seats. The famous roller coaster Gwazi is located in the Morocco area.
Gwazi: You can enjoy riding this dueling wooden roller coaster. The Gwazi boasts of having the maximum number of fly-bys present on a dueling roller coaster. The flyby is a position or stage at which two roller coaster pass in opposite directions, giving a chilling as well as an exciting impression for the riders ,as if they are going to collide against each other.
Stanleyville
This portion of the park houses the SheiKra and a variety of water rides.
SheiKra: This is a Bolliger and Mabillard diving machine roller coaster .It is North America's primary dive machine roller coaster. It got its name from the Asian-African Hawk, Sheikra, which is known to catch its prey by diving down straightly for its prey.
Some of the main features a rider will experience in the SheiKra is a forty five degree 200ft chain lift hill, Immelmann of 140 feet height, a 90degree 195 feet drop, a 81 degree 138 feet drop.
Nairobi
You will have the chance to see the crocodiles and the alligators in close proximity. There are also the reptiles and the mammal exhibits in the Nairobi area. You can also visit the tropical rain forest named as the Myombe Reserve, which is home to the Common Chimpanzees and the Western lowland Gorillas.
Visiting hours
The Busch Gardens Tampa Bay is opened to the public, usually from 9:30am-6pm, but on holiday ad in summer the visors may be extended.
Address
3000 E Busch Blvd
Tampa, FL 33612
Tampa Bay, Tampa, Florida, United States
(813) 987-5000, 1-888-800-5447

Comments
You must
login
to post comments.