Botswanacraft - The Mall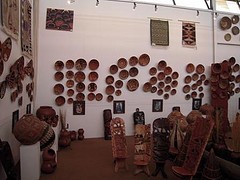 The Botswana Development Corporation established the Botswana craft in the year 1970 with the main objective to promote the country's rural based handicraft industry.

It is the biggest exporter and retailer of handicrafts. It harmonizes locally manufactured product from the South African area and other developed countries it is devoted to enhancing the excellence of life for countryside Botswana.

You can find at this biggest crafts emporium a variety of conventional mementos from all over the nation that includes Oodi weavings, Gabane pottery, and Thamaga .The prices for the items are fixed ones, no bargaining.

Opening hours
The business hours for Warehouse & Gallery
Local Time (GMT+2)
From Mon to Fri: 0800 - 1800
On Saturdays, 0800 - 1700
On Sundays, 0900 - 1300
Address
Botswanacraft - The Mall
Botswana craft Marketing (Pty) Ltd
The Mall Selemela
Gaborone, Botswana
P. O. Box 486
Fax: (+267) 3922 689
Ph no: (+267) 3922 487
E-mail: [email protected]
Sales: [email protected]
Enquiries: [email protected]





Comments
You must
login
to post comments.