Babel land, Jeddah
: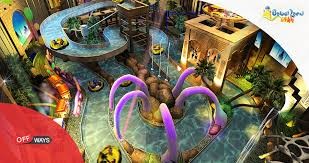 The Babel land is the biggest indoor them park in Jeddah. It is an prehistoric Babylon themed amusement centre that is spread on an area of about 20,000 sq.meters. It has numerous games and rides and serves as an appropriate entertainment destination for your kids and family members. Your kids enjoy riding on some exhilarating rides like Inog energized roller coaster, high rise drop zone, water rides, bumper cars, bowling, haunted house, billiards, hydro left, electronic games, Discko, ice rink, tower drop, etc. There are also costumed characters to entertain the vistors. Your kids can also take part in the stage shows and face painting contests. The most excellent part of this amusment centre al the activities are present indoors, hence you need not bother about the scorching summer heat.
Highlights
All the rides are imported from US & Europe and are brand new.
All the rides are properly maintained and safe to use. All the rides are TUV safety certified
Numerous coupons can be procured as gifts.
Fees
Package One (30.00 SR)
All games with meal excluding Edutainment &bowling
Package Two(39.00 SR
) All games with meal, Edutainment & bowling
Opening hours
Opened on all weekdays from 5.00pm to 12.00pm.
Address
Jeddah – Al Salam Mall - king abdullah Street with Prince Majed. Al Jamaa Dist. - King Abdulaziz Roundabout 022501666 Jeddah
Related News
Comments
You must
login
to post comments.