To post your Indian Association, School News Please send your news details and images to
editor at abroadindians.com (replace at with @) and our editor will publish.
AL-MASHOOR Participates in the "DEKABANK's ECONOMIC" semina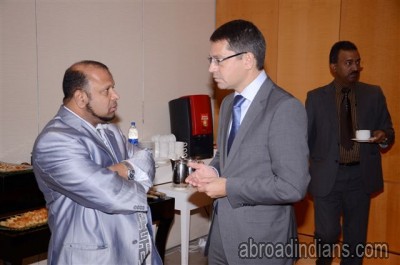 "DekaBank" , the Central Asset Manager for German Savings Bank Finance Group has conducted recently a seminar in Kuwait, wherein many of the International and local Bankers participated. The seminar presented very rich information about the "German Economy, Euro and future Vision of Europe. Dr. Ghalib Al-Mashoor, The Investment Manager of UNITED ARAB SHIPPING CO. (USD1.7 Billion capitalized Shipping Company owned by 6 GCC Governments - www.uasc.net), was invited to attend the seminar. DekaBank's Board member Oliver Behrens and other Executives also present during the presentation. German Ambassador to Kuwait H.E. Frank Mark Mann graced the function.

"DekaBank" is the central asset manager for the Sparkassen-Finanz¬gruppe, the world's biggest financial network offers tailored products, solutions and services for implementing individual investment strategies in a variety of market scenarios.

Photo: Dr. Ghalib Al-Mashoor was greeted by H.E. frank Mark Mann, The German Ambassador to Kuwait along with Board Member and Executives of DekaBank.

Event Gallery
Comments
You must
login
to post comments.