Al Salaam Mall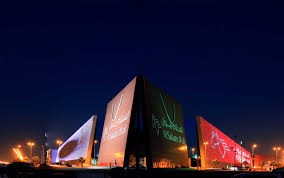 Al Salaam Mall is one of the biggest shopping centre in the Kingdom of Saudi Arabia. With its peculiar triangular structure, it provides a mixture of stylish retail and relaxation amenities it houses retail outlets of high street brand which are persistently being improved with new retailers so as to fulfil the requirements of the customers and refresh the shopping experience.
This renowned mall is located in the hub of Jeddah and encompassed by commercial and investment establishments. The mall is spread on an area of about 131,280 sq.m and accommodates more than 350 outlets.
The Al Salaam mall has a broad assortment of shops under various categories like Kids wear, men's fashon, ladies fashon, Socks, Unisex fashon, lingerie, Arabian garments, leather Goods, shoes, bags , silver & ladies accessories.
Kidswear
Some of the children fashion outlets which you can find in this mall are Ziddy, Mamas & Papas, Thunaiyat kids, Guess kids, Gocco, etc.
Women's fashion
Bershka,Bugatti, Anne Klein,Bossini,Blanco,Cymbeline,Femi 9,Lipsy London,Jennyfer are some of the renowned oullets where you can purchase trendy outfits for your spouse.
Men's fashion
A few of the men's fashion stores where you can shop for some stylish dresses are Blue Age, River Woods. Jack and Jones, Hilfiger Denim, etc.
Arabian garments
Sheyar, Nayomi Abbaya, First, Jamilaty, Bedoon Essema are few of the wellknown stores where you can purchase Arabian garments.
Hypermarket
At the Ground floor of the mall you can find the Danube Supermarket where you can shop for your essential groceries and other items.
Jewellery

Pure gold, Musalli, Damas, Al Hashedi are some of the well known jewel outlets where you can purchase trendy jewellery.
Watches

Like wise you can get the latest watches from leading clock stores such as Al Homaidi Watches , Al Daham Watches , etc.
Entertainment
The mall also houses the Babeland, and indoor entertainment area where your children can have great time taking part in the awesome rides & games.
Dining
After hours frenzied shopping you can chill out at any of the food outlets located inside the mall. Some of restaurant and cafes where you can taste your favourite dishes are Burger King, Cinnabon, COSTA COFFEE, Herfy, McDonald`s, Baskin Robbins,etc
On the whole the Al Saalam mall provides you a unique and enjoyable shopping experience.
OPENING HOURS

Sunday - Saturday
Stores from 10:00am to 12:00am
Food court from 9:00am to 1:00am
Entertainment from2:00pm to 1:00am
Danube from 9:00am to 1:00am
Friday opening hours
Stores from 2:00pm to 12:00am
Food court from 2:00pm to 1:00am
Entertainment from2:00pm to 1:00am
Danube from 9:00am to 1:00am
Address

Al Salaam Mall
Intersection of Prince Majed road and King Abdullah road - As Sulaymania district
Jeddah
Kingdom of Saudi Arabia
Phone:+966 12 227 0043
E-mail: [email protected]
Comments
You must
login
to post comments.