Al Raha Mall Abudhabi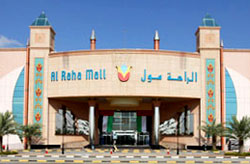 Located near the picturesque Al Raha Beach, Al Raha Mall is the new shopping oasis of Abu Dhabi. Al Raha Mall is soon to be the most happening spot outside Abu Dhabi city.
The mall being a 10 minute drive from the Abu Dhabi airport and on the Dubai-Abu Dhabi Highway, is the first-stop shop for tourists coming to Abu Dhabi.
The mall boasts of an array of brands catering to the taste of both Arab and Expat community surrounding it. With a mixture of entertainment, shopping and leisure, Al Raha provides the best family hideout for those special days.
Al Raha Mall
P.O.Box 4048
Abu Dhabi - U.A.E.
Tel: +9712 5562229
Fax: +9712 5561786
Web:
www.al-rahamall.com
Related News
Comments
You must
login
to post comments.