Al Bida Park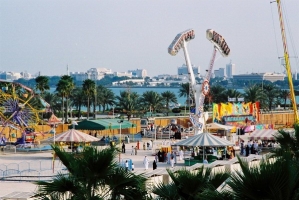 Al Bida Park, Qatar is a famous tourist attraction. The park overlooks the Doha sea front. This park features lush green playing areas and heavily shaded corners that provide relief from the scorching heat.
Al Bida Park, Qatar is an ideal place to enjoy holidays with family and friends. You can enjoy some quiet moments away from the crowds of the city. Numerous food outlets lie in the proximity of Al Bida Park, Qatar.
So if you are feeling hungry you just cross the Park, Qatar and enjoy your meal at the restaurant that serves your favorite cuisine. Most of the restaurants in the area serve a wide variety of snacks and soft drinks and they don't burn a hole in your pocket.
If you are health conscious then you must visit Al Bida Park, Qatar as this place is the perfect destination for walking, jogging and cycling. Or you can just sit down and relax the park offers a tranquil and peaceful environment that help us to calm down and forget the tension of our daily life
If you are lucky you may even see an exhibition at Al Bida Park, Qatar. The park has held many important exhibitions in the past. Regular exhibitions ensure that the park is well maintained.
Al Bida Park, QatarAl Bida Park, Qatar is open round the clock all seven days a week. The entry to the park is free of cost. Tourists on Qatar tours must visit Al Bida Park, Qatar to enjoy and appreciate natural beauty of the region.
Related News
Comments
You must
login
to post comments.